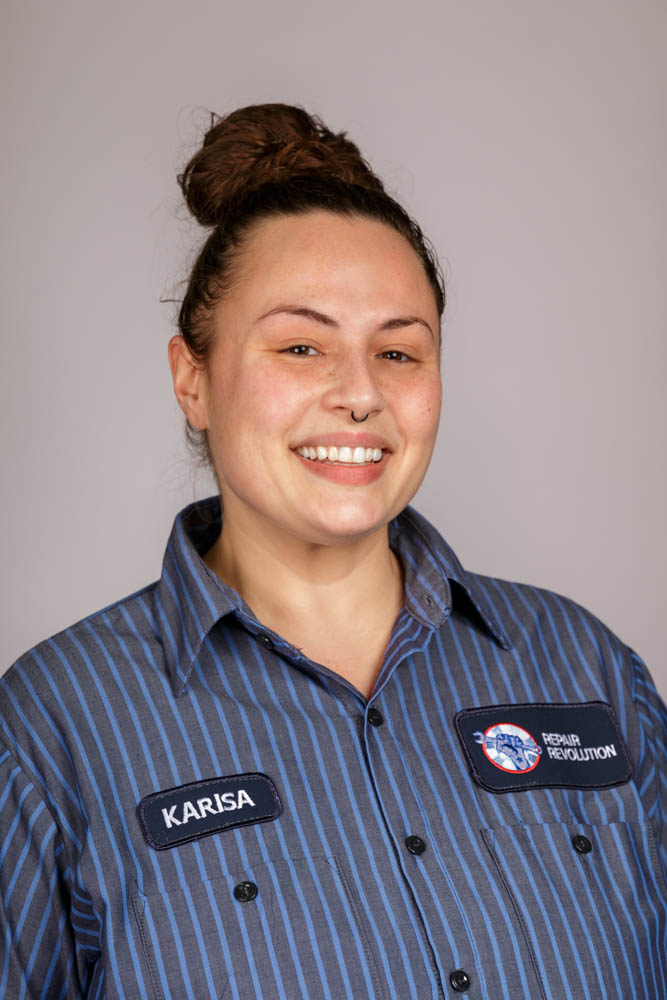 Karisa
Karisa has been a part of the Repair Revolution team since 2020. She is an amazing Service Advisor with a knack for explaining complicated mechanical issues to customers in an easy-to-understand way. She embodies our mission to ensure customers feel like they are well informed and empowered about their repair decisions. Before Repair Revolution, Karisa spent six years of her life in The United States Navy as a Jet Engine Mechanic, honing in her mechanical prowess, turning wrenches, and busting her knuckles across the globe.  She has always had a passion for bang up customer service and a never-ending fascination with how things work. In her military career she was certified as F-404/400 Turbofan Jet Engine First Degree/IMA Mechanic, H-60 Systems Organizational Career Maintenance Technician, and Naval Aviation Organizational Maintenance Activity Work Center Supervisor.
During her transition out of the military she has found a renewed sense of self and community and she strives to be a bigger proponent in the betterment of her city for all! Having grown up and lived here most of her life she has a deep connection with the area, and she feels right where she belongs, working with a crew that have the same values in mind. The Repair Revolution team is a tight knit group of individuals committed to personal and professional growth that emphasize the need for up front communication.
Karisa is a HUGE animal lover and has a big crew to prove it. She has a French Bulldog (Stetson), 2 German Shorthair Pointers (Lemmy and Elli), and 4 chickens (Esther, Imogene, Patrice, and Susan) to share her abundance of love and care. She likes to spend her free time perusing antique malls and finding treasures from the past. She has a passion for anything to do with the outdoors and has a huge love of the natural world. Last, but not least, she has a dream car, following in line with her passion for all things Retro and Vintage a 1970 Chevelle Wagon!!